Working from home: Orbit Homes employee buys first home where he works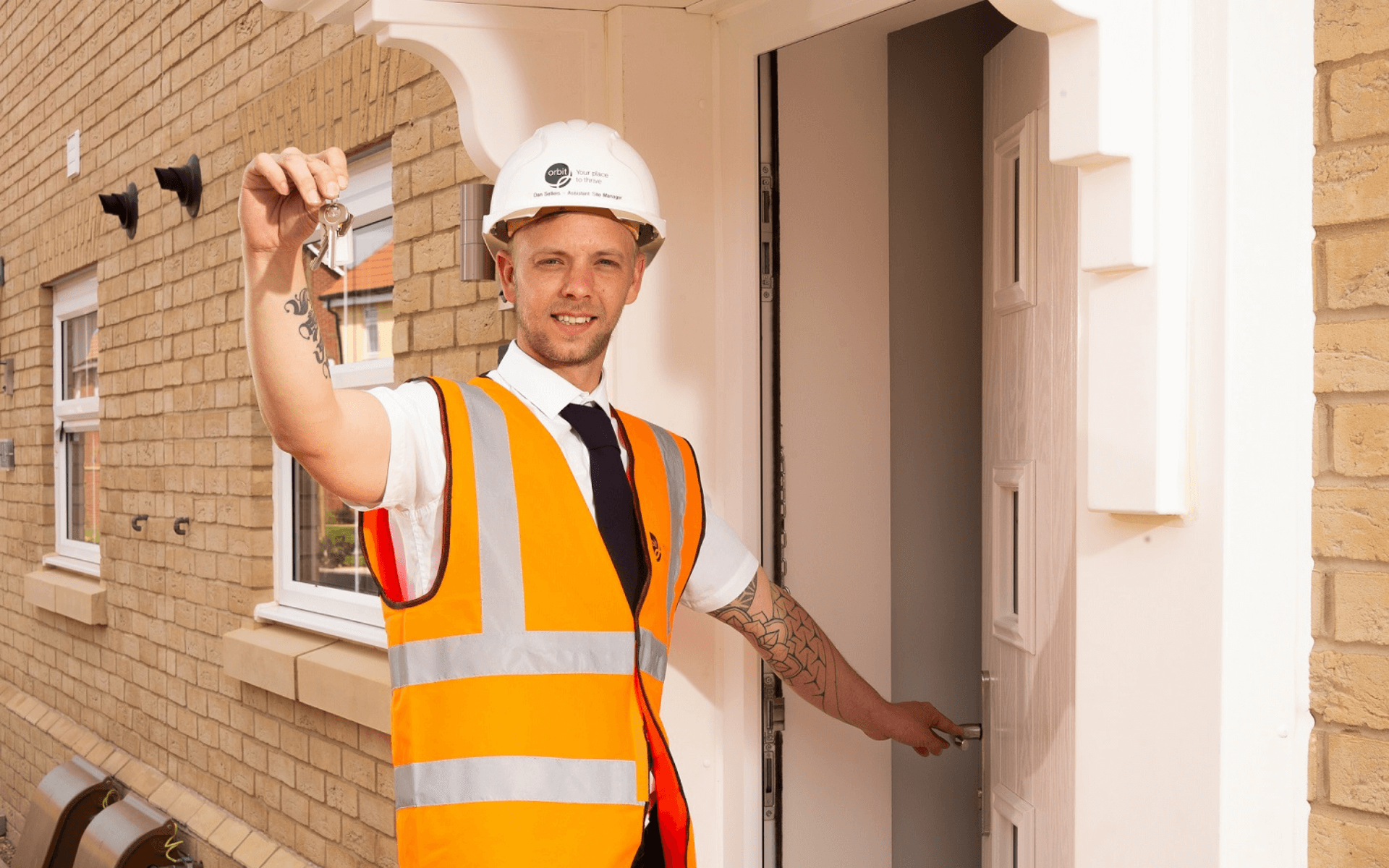 When it comes to commuting to work, life doesn't get much better for Dan Sellers. You could say that his job is literally on his doorstep, because Dan is employed as New Build Project Manager on the development where he has recently purchased his first home.
In January, Dan (30) moved into his new Help to Buy home at Orbit's Newlands development in Attleborough.
Dan had previously lived in his family home in Watton, Norfolk, but after saving enough for a deposit on a house, he began looking at properties in the local area. After comparing local developments, first-time buyer, Dan, chose to purchase a three-bedroom home at Newlands, because he knew first-hand that he was purchasing a property which carried high design standards in a great location, close to the A11.
Talking about his experience with Orbit as a first-time buyer, Dan said: "When I was looking at buying my first home, I kept an open mind and looked around to see what was on the market. To me, Orbit was the highest quality new build development in the local area and in my profession, I have seen lots of homes built. All the Newlands properties are modern, light and airy and the design, quality and product specifications are fantastic. So, not only was I choosing the best home available to me, I was also literally buying on my doorstep!
"I would 100% recommend Orbit to anyone and would encourage any first-time buyers to purchase from them as they really help with the whole process. While I know a lot about building homes, as a first-time buyer, I needed help at times with the purchase side and the sales team at Orbit were really helpful and guided me through the whole process."
Dan started his career in construction as a labourer. Within four years, Dan had successfully progressed from Trainee Assistant to Assistant Site Manager. After two years as an Assistant Site Manager, Dan joined Orbit in January 2020. Dan has worked on the Newlands development since joining Orbit and became New Build Project Manager in April 2021.
Newlands is located just over a mile from Attleborough town centre and a mile and a half from the train station, making it the ideal location for both families and commuters. The development is ideally placed for those who regularly commute to work or spilt their time between the office and home. There is easy access into Norwich, either by car via the A11 or by train. From Norwich, the train journey to London takes around two hours, and the journey to Cambridge takes just over an hour.
All properties at Newlands come with private gardens and are attractively designed, built to maximize space with a fully inclusive specification. The development is well planned and spacious, separated by three central public spaces.
Three-bedroom properties are available to purchase from £90,000 for a 40% share using the Shared Ownership scheme. Three and four-bedroom detached houses are currently available to purchase outright or using the Help to Buy scheme from £280,000 up to £310,000.
The Orbit sales office and show homes are open daily 10am to 5pm for viewings by appointment only. Virtual tours and videos of some of the properties at Newlands are also available upon request.
For more information call 01953 827 106, email sales.newlands@orbit.org.uk or visit our Newlands development.