Willett Gardens: Purchasing a brand-new modular home with Orbit Homes through the Shared Ownership scheme
Michelle and Robert's experience with Orbit Homes
Michelle and Robert Hampstead had been privately renting in Wellesbourne for five years when Orbit Homes started development of its new all-affordable development, Willett Gardens.
They had considered the idea of Shared Ownership before, so went to look at what was available and decided upon a two-bedroom, semi-detached house which had been engineered off-site by Orbit Homes modular partner, ilke Homes.
"I walk past the development every day on my way to and from work," explained Michelle. "So, when I saw some of the homes would be available for Shared Ownership, I couldn't wait to find out more."
Michelle and Robert were guided through the process by Sales Consultant, Antonia Lowe, who also recommended a financial advisor to discuss the mortgage. Antonia also discussed the modular home option with them.
I didn't really know much about these types of modular houses before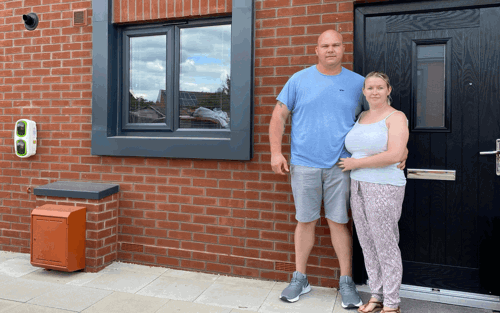 "I didn't really know much about these types of modular houses before," Michelle added. "But after researching it on the internet, I was really pleased to see how environmentally-friendly they are.
"I couldn't be happier. Everything just fell into place and it has all worked out beautifully. I love the house. I love the fact that it is open plan and that we have everything we need here in the village."
Antonia supported Michelle and Robert throughout the buying process, demonstrating Orbit Homes commitment to delivering the best service for its customers by regularly updating them with progress and answering any questions they had.
Willett Gardens
Willett Gardens is an exciting collection of 35 all-affordable two and three-bedroom homes, including 16 Shared Ownership properties, located in the heart of the village of Wellesbourne in Warwickshire.
The development comprises of 25 modular homes, which boast energy-efficient and environmentally friendly credentials, as well as 10 properties which are built with traditional timber frames. All properties come with private gardens and a fully inclusive specification.
Willett Gardens is Orbit Homes first development using modern methods of construction. The development is testing two different construction methods: ilke modular homes and traditional timber frames, which will allow Orbit Homes to better understand how it can reduce its carbon emissions and heating costs for customers through construction techniques.
Ilke modular homes
The ilke modular homes are precision-engineered along factory production lines. By manufacturing offsite, homes can be created in just over 10 days – far quicker than traditional housebuilders. Modular housing also significantly reduces the impact on the environment through off-site, energy-efficient construction, minimised material procurement and wastage and reduced transportation required to and from site.
Unlike those built using bricks and mortar, modular homes are built using steel frames which form the building's main structure. Although built in a completely different way, steel frame homes have all the same homely touches as a traditional house, designed to be blank canvases ready for new owners to make them their own.