Orbit Homes hosts 'Butty and Brew' event for Men's Mental Health Week
Podcast and radio show hosts, The Black Country Blokes, enjoyed a 'butty and brew' with Orbit Homes construction workers at The Hedgerows development in Hellingly, as part of an event to support Men's Mental Health Week.
The wellbeing morning included free health checks and information packs provided by wellness company Bluecrest and a talk from The Black Country Blokes, a men's mental health podcast that discusses issues related to being a man in today's society.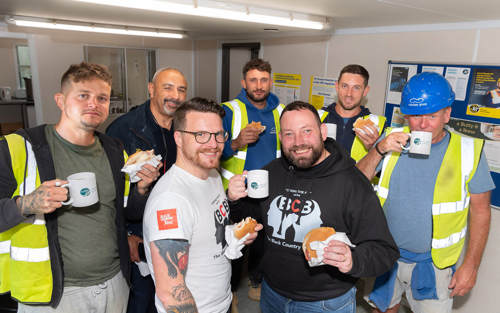 The 15-minute 'mini health checks' provided by Bluecrest gave Orbit Homes colleagues a snapshot of their current health status. The construction workers received instant results for their glucose and cholesterol levels via a fingerprick test, biometric and blood pressure readings. A body analysis test was also conducted which gave employees full readings of their weight, fat mass, muscle mass, bone mass and metabolic age.
A Bluecrest Health Assessment specialist conducted the tests and explained to each employee what their readings meant, whilst also giving advice on how to improve their results. Orbit Homes employees also received a results cards which they could take home.
Men's Mental Health Week runs from 13th – 19th June and encourages men everywhere to keep an eye on their bodies and minds, by giving themselves an 'MOT'. These do-it-yourself health checks and challenges are design for men of all ages and can be downloaded from the Men's Health Forum website.
Lee Cadman, a member of The Black Country Blokes who attended on the day, said: "I want to thank Orbit Homes for inviting us to talk with the lads on site. It is vital that people in construction have the opportunity to discuss their mental health and it was fantastic to see everyone talking so openly and honestly. I hope we have broken down a few barriers and more people are encouraged to seek help when they need it."
Jane Miles, Internal Healthy Minds First Aider at Orbit Homes, who also spoke at the event, said: "We are committed to improving the health and wellbeing of our colleagues. Mental health, particularly within the construction industry, still has a stigma surrounding it, so we want to create an environment where people feel comfortable talking about their health and wellbeing. The 'Butty and Brew' event has given our colleagues lots of information and guidance on managing their mental health, in addition to physical health checks, and is a great opportunity to encourage construction workers to seek the help they need if they are struggling, and not to suffer in silence."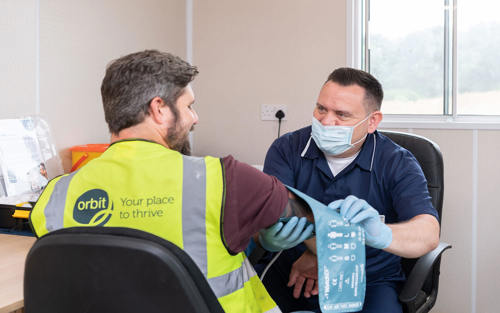 Gustave Godden, Customer Care Operative at Orbit Homes, attended on the day and commented: "I want to thank Orbit Homes for hosting such a useful mental health session at The Hedgerows. It was great to listen to The Black Country Blokes talk about their experiences of mental health, and they communicated it in a way which all of the builders could relate to. The health check was excellent, and I feel like I gained a lot from attending the event. A good chat was had by all, over a cuppa and a bacon butty!".
Megan Wooster, Client Services Manager at Bluecrest, added: "We are delighted to have partnered with Orbit Homes to deliver our hugely important 'mini health checks' to their colleagues. At Bluecrest, our aim is to inspire and motivate people to make the right decisions in order to live a healthier, happier, and longer life. We hope that the free health checks empower Orbit Homes colleagues to take an active role in managing their own health and wellbeing."
Orbit Homes is also a supporter of mental health charity Mates in Mind, which provides a framework to raise awareness and address the stigma of poor mental health. The charity provides clear information to UK employers, especially within the construction industry, on available support and guidance on mental health, as well as how they can address and improve this across their organisations.
For information about Orbit Homes and their current developments, visit: www.orbithomes.org.uk/. Further details about Bluecrest health checks can be found at: www.bluecrestwellness.com/
To learn more Men's Mental Health Week and #MANMOT, go to: www.menshealthforum.org.uk/mhw.