Orbit Homes Update Following New Lockdown Restrictions
Following recent changes in Government guidelines, our show homes will continue to be open to the public across all developments, by appointment only.
Safe for our teams and visitors
Our number one priority is to keep our customers, employees, and the wider community safe. Our committed sales team are here to help you make an informed decision about your future home while still maintaining social distancing.
Planned appointments help us ensure these visits adhere to new government guidelines regarding social distancing, with all appointments lasting up to one hour. Our Sales Consultants will also still be available to discuss your requirements virtually if you are looking for a new home.
Please visit our developments to book a face to face, telephone or virtual appointment. Opening times can be seen on individual developments.
Booking an appointment
Customers are encouraged to contact Orbit Homes to book an appointment at one of our developments or find out more information about our strategy to ensure everyone's safety.
We will only open show homes, where we feel social distancing measures can be fully and safely followed. If you would like to make an appointment, please familiarise yourself with the following guidelines.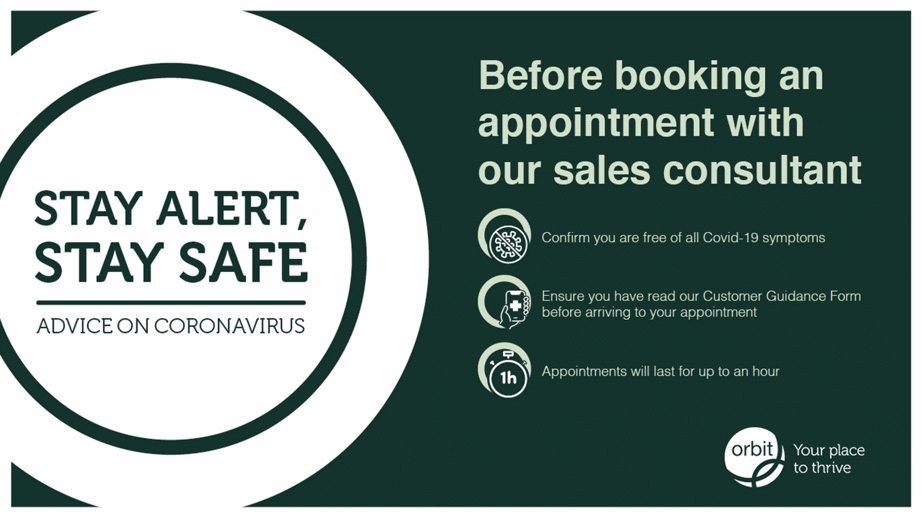 Show Home Appointment Guidelines
Before arriving at our show homes:
• Viewings are to be booked online for up to one-hour appointment slots. Please email or call us to confirm your appointment
• Customers must be free of Covid-19 symptoms before booking an appointment. You will need to confirm this via email or phone call
• Before arriving, customers will receive confirmation by sales consultants
• Customers will be sent and must ensure they have read our Customer Guidance Form before arriving to your appointment
On arrival and during your appointment:
• Face coverings must always be worn during your appointment and viewings
• Hand sanitiser will be provided and can be used by both customers and staff during appointments
• Markers will be placed on the floor to assist in maintaining the 2-metre distancing rule
• Surfaces will be wiped after every appointment