Orbit Homes supports Men's Mental Health Week with wellness event at Daventry development
Orbit Homes hosted a wellness event for its colleagues during Men's Mental Health Week at its flagship Daventry development, Micklewell Park, which took place on Friday 10th June.
The event included an insightful talk from health and safety consultants R G Wilbrey, as well as free goody bags with handy emergency telephone numbers and information about healthy eating. The wellness afternoon ended with a team quiz and buffet lunch.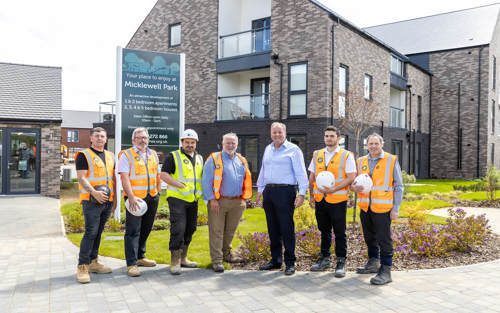 Andrew McDermott, Regional Managing Director at Orbit Homes Midlands, said: "We are committed to improving the health and wellbeing of our colleagues. Mental health, particularly within the construction industry, still has a stigma surrounding it, so we want to create an environment where people feel comfortable talking about their health and wellbeing.
"The wellness event at Micklewell Park has given our colleagues lots of information and guidance on managing their mental health and is a great opportunity to encourage construction workers to seek the help they need if they are struggling, and not to suffer in silence."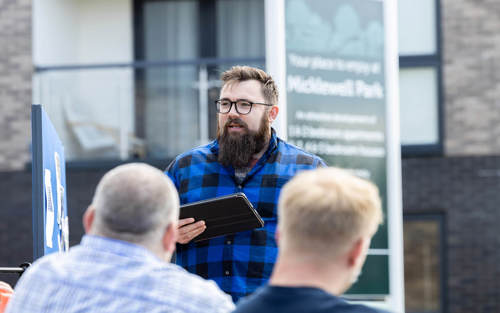 James Flaherty, Training Manger at R G Wilbrey, who was a guest speaker at the event, added: "I think it is great that organisations such as Orbit Homes are carving out time to bring people together and talk about mental health considering the current climate with such demanding programmes.
"Mental health is a gauge of how an individual thinks, feels and acts. It should be managed at the same rigidity as all occupational health in construction. Mental Health First Aid is just one piece of a jigsaw and we should as an industry spend time developing resilience in individuals and teams to be prepared for ups and downs of work and life at home."
Men's Mental Health Week ran from 13th – 19th June and encourages men everywhere to keep an eye on their bodies and minds, by giving themselves an 'MOT'.
These do-it-yourself health checks and challenges are designed for men of all ages and can be downloaded from the Men's Health Forum website.
For information about Orbit Homes and their current developments, visit: www.orbithomes.org.uk/.
To learn more Men's Mental Health Week and #MANMOT, go to: www.menshealthforum.org.uk/mhw.