Orbit Homes plants pear tree at Daventry development to mark Queen's Platinum Jubilee
In celebration of the Queen's Platinum Jubilee, a pear tree has been planted at Orbit Homes' flagship development in Daventry, Micklewell Park.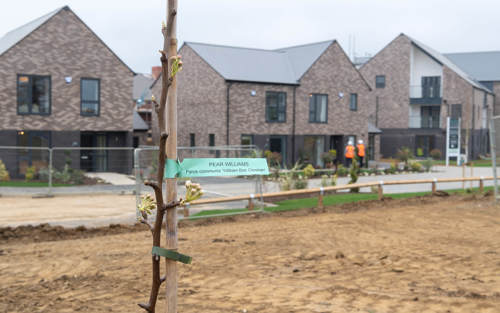 The Williams pear tree was planted on Wednesday, 30 March, having been provided by and planted in collaboration with leading law firm Shakespeare Martineau as part of the Queen's Green Canopy (QGC) – a unique initiative created to mark Her Majesty's Platinum Jubilee this year.
Colin Dean, Sales and Marketing Director at Orbit Homes, said: "We are proud to plant this pear tree to celebrate the Queen's Platinum Jubilee and add to the biodiversity we are creating at Micklewell Park. We consider a home's surroundings to be just as important as the living spaces inside and know that sustainability and wellbeing go hand-in-hand for an improved quality of life for our residents.
"Micklewell Park will be surrounded by beautiful green spaces and will include 20 allotments, newly-constructed cycle paths and newly-planted woodland. We know our new pear tree, which we planted in collaboration with our partners at Shakespeare Martineau, will be appreciated by the new neighbourhood and will be flourishing once the first phase of the development is completed in spring 2023."
With a focus on planting sustainably, the QGC initiative aims to encourage the planting of trees to create a legacy in honour of The Queen's leadership, while benefitting future generations.
Shakespeare Martineau is pending B Corporation status – where organisations are legally required to consider the impact of business decisions on their people, customers, suppliers, communities and the environment – and has committed to 30 ambitious responsible business pledges, including becoming carbon negative by 2030 and is on this journey already with all registered office hubs using 100% renewable energy.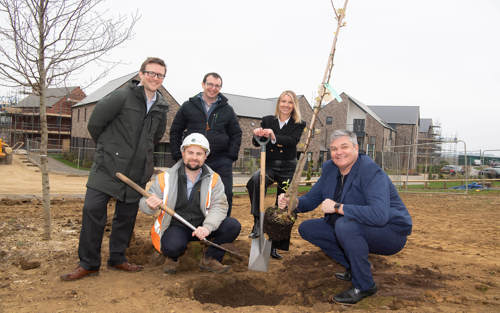 Rachel Gwynne, partner and head of social housing at Shakespeare Martineau, said: "We are delighted to have partnered with Orbit Homes to plant a tree in honour of the Queen's Platinum Jubilee.
"While this is a small contribution in terms of biodiversity, it will have a positive impact on the community once the development has completed – nourishing the neighbourhood with greenery and fruit, while helping to add to the nationwide drive to mark the Queen's 70 years of service.
"We look forward to residents enjoying the fruits of their efforts, quite literally, for decades to come."
Micklewell Park comprises 450 homes – featuring one and two-bedroom apartments and two, three, four and five-bedroom houses – which will be a mixture of rented, shared ownership and market sale properties. The development will be embraced by nature and green spaces, including eight acres of woodland, and has been designed for a desirable quality of life today and a sustainable future.
The first phase in the Micklewell Park development – comprising 108 homes – is scheduled to complete in March 2023 and will include 20 allotment spaces, electric vehicle charging points, two bus stops and land allocated for a new primary school. Two further phases will commence thereafter.
To see our current availability at Micklewell Park, click this link: https://www.orbithomes.org.uk/micklewell-park