Shared Ownership: Your Place to Call Home... For Less
Shared Ownership offers an affordable way to buy a brand-new Orbit Home. If you are a first-time buyer, simply purchase a 25% - 75% share of the property and pay subsidised rent on the rest. The share you buy is tailored to suit each customer's individual circumstances, meaning it is affordable for you now, and in the future!
Here, Lauren and John from Northamptonshire talk about their fantastic experience when purchasing through Orbit's Shared Ownership scheme…
Lauren (29) and her partner John (31) moved into their brand-new home at Coldermeadow Park in Corby using the Shared Ownership scheme.
Lauren, who works in a children's nursery and John, who is a postman, had previously lived in a rented property in Corby, but decided in lockdown to move back in with their parents to save enough money to get themselves onto the property ladder.
After speaking with a friend who had recently moved onto the development, Lauren and John decided to purchase a three-bedroom house at Coldermeadow Park.
From the start, Lauren and John were impressed with Orbit's customer service. Their sales consultant, Denise, supported the couple throughout the whole process including providing recommendations for mortgage advisors and solicitors.
As first time-buyers, working closely with Orbit's sales team was hugely beneficial. They regularly updated the pair with progress, answering any questions they had and providing advice and reassurance every step of the way, demonstrating Orbit's commitment to delivering the best service for its customers.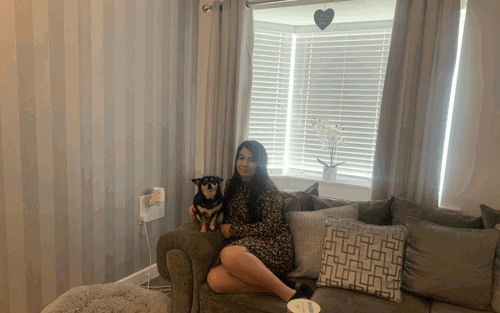 Commenting on their outstanding Orbit experience, Lauren said: "When the coronavirus pandemic hit last year, John and I decided to move back in with our parents and save as much as we could for a house deposit. After a friend told us about Coldermeadow Park, I had a look at the houses and knew I needed one for myself! I emailed the sales consultant immediately, who couldn't have been more helpful, she sent me all the details on the next steps – and that's when our Shared Ownership journey began!"
John added: "The buying process was made really easy for us by Orbit, I couldn't fault it. Shared Ownership made sense to us, as we didn't need as much of a deposit and could spend more money making our new house, a home. Without the scheme, it would have taken us a lot longer to get on the property ladder. Shared Ownership made life so much easier – if I was giving advice to first-time buyers, I would say use this scheme! We've been in our new home for just over 5 months now, and I can honestly say it's the best decision we've ever made."
Orbit's Coldermeadow Park development is a collection of stylish two and three-bedroom houses, set in the popular Northamptonshire town of Corby. All homes have a private garden and a fully inclusive specification. These brand-new homes were available to purchase through the Shared Ownership scheme and are now all sold, highlighting the demand for affordable homes in the local area.