Nicole's not just climbing the wall, she's climbing the property ladder
Nicole, 28, explains why buying her own home has been such a life changing experience:
"I am registered as severely visually impaired, so I can't drive a car, but my job as a Sensory Support Officer, working with children with disabilities, at home and in nursery and school settings, means that I need to be able to travel easily around the region."
"Stowmarket has fantastic rail links, with frequent services & The Hazels is the perfect location for me because it is less than a mile's walk to the railway station."
"Where I was living before, in a rented flat in Bury Saint Edmunds, I had to organise my days strategically around train times, and the last services back home were often too early for me to spend much time with my friends after work. I'm a very keen climber, so it was frustrating not to be able to stay and socialise after a session at the climbing wall."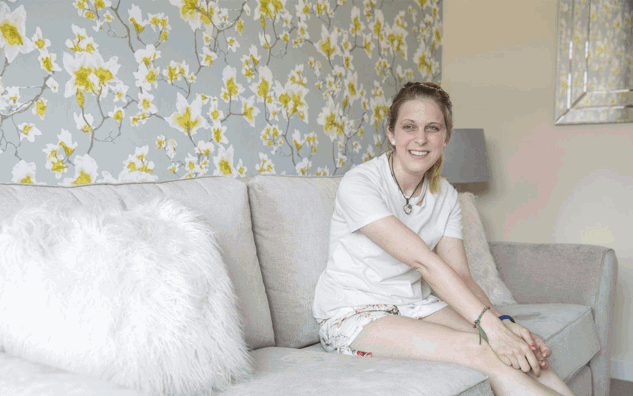 Shared Ownership came to the rescue for Nicole
Nicole desperately wanted to buy her own place in Stowmarket, where many of her friends live, but just couldn't find a home she could afford with the £20k deposit she had managed to save up. This is where Shared Ownership came to the rescue, as, through the government-backed scheme, people with a household income of less than £80k per annum (and £90k in London) can get help to buy a new build property.
Purchasers only need a deposit for the share of the house they buy, and pay a subsidised rent on the remaining portion. In Nicole's case, this meant that her available deposit, and her salary, allowed her to buy a 40% share of a two bedroom house.
Nicole explains some other key benefits to buying her own home with Orbit Homes:
"Before I moved to The Hazels, I was renting the best property I could afford, but even with maintenance charges, mortgage and rent here, I am still £80 a month better off in my shiny, new, two bedroom house than I was in a tiny maisonette with no direct garden access.  Here, I have loads of space, and a second double bedroom."
"I went to a school for the visually impaired, which means many of my older friends have guide dogs. Now, they can actually come & stay with me & there is an easily accessible, secure garden for their dogs to enjoy too."
Nicole praises the Orbit Homes team
Nicole is very keen to praise the help she received from the Orbit Homes team, who she says, "went out of their way to help". "They even contacted the local authority for me, to ensure that I qualified for this development. As you can imagine, this quality of home in such a great area is highly sought-after, and I would have been heart-broken not to have been offered a property here. 
"Fortunately, with Orbit Homes' help, I was offered my perfect home at a price I could afford. They even helped me find out where I could buy the lovely wallpaper they had in their show home!"
An added bonus is that Nicole now lives just five minutes from her beloved climbing centre, and has already set up a specialist group for visually impaired young people, using her instructor's qualifications and having secured Lottery funding. "When you have the right home, the world is your oyster!" she beams.
Could Shared Ownership be for you?
View our developments