London Living Rent: The scheme that's helping Simi to save for a deposit to buy her home
London Living Rent offers Londoners on middle incomes a below-market rental home, helping them to save for a deposit to eventually buy their own home.  By offering a low rent, tenants are supported to save every month towards their deposit and given the option to buy their home through Shared Ownership during their tenancy.
Orbit is offering London Living Rent homes at its Erith developments, Elliston House and Park East. In March this year, Simi (28) moved into her brand-new Orbit home at Elliston House. This is her story…
In March 2021, 28-year-old marketing manager Simi, moved into her own home at Orbit's Elliston House development.  
Despite her successful career as a marketing manager, her ambition of owning a home seemed unattainable. She had lived in a series of shared houses, eventually returning to her family home during the coronavirus pandemic.
Simi had considered Shared Ownership but was deterred because she would have only been able to afford a minimum share and wanted to wait until she could buy a greater stake in her home.
She came across Orbit's Elliston House scheme while browsing Bexley Council's website. Elliston House, completed in February 2021, is Orbit's first London Living Rent scheme. Households on modest incomes can rent for up to ten years at a subsidised rent, while saving to buy either outright, or Shared Ownership.
Simi registered right away and was delighted when she was invited to view Elliston House. She had a choice of one-bedroom apartments and chose one on a side elevation, because it was more secluded by not being overlooked.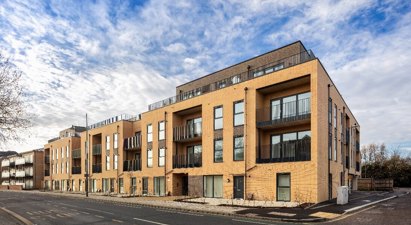 Simi appreciated the bright airy flat and large windows which make even a one-bedroom apartment feel spacious, while the balcony gives her a space to exercise yoga. Most of all, she loves having her own kitchen, being a keen and adventurous cook, Simi is always experimenting with different cuisines. It's made life so much easier not having to share the kitchen space and not always having to clean up immediately so someone else can use it, which she has been previously used to.
Simi will be saving to buy her home and expects to be able to purchase her first share through Shared Ownership within three years.
More London Living Rent apartments will be available at Park East from August 2021. You can register your interest at https://www.orbithomes.org.uk/park-east/.