London Living Rent: Read Anike's success story
London Living Rent offers Londoners on middle incomes a below-market rental property, helping them to save for a deposit to eventually buy their own home.  By offering a low rent, tenants are supported to save every month towards their deposit and given the option to buy their home through Shared Ownership during their tenancy.
Orbit is offering London Living Rent homes at its Erith developments, Elliston House and Park East. In March this year, Anike and her two children moved into their brand-new three-bedroom apartment at Orbit's Elliston House. This is their story…
For beauty sales consultant Anike and her children Ola and Anu, moving to their brand-new three-bedroom apartment in Elliston House was 'a dream come true'.  
Following a relationship breakdown, Anike had been renting a two-bedroom flat in Erith with her daughter, Anu, now 11 years old still sharing a bedroom with her mother. Anike looked at three-bedroom homes in Erith but found rents were well over her budget. She was keen to stay in the area, where her children are settled at school and keen members of local football clubs.   
An advisor at Bexley Council told Anike about Elliston House and London Living Rent. London Living Rent allows Londoners on limited incomes to rent a new home on a low rent while they save to buy it, either outright or through Shared Ownership.
Anike chose a third-floor apartment with three spacious bedrooms. She was attracted by the wraparound balcony and the bright modern rooms on offer, which was more desirable to Anike and her needs. Ola and Anu can now plan to customise their own rooms and Anu is thrilled to be able to invite her best friends for sleepovers, now that she has a room of her own.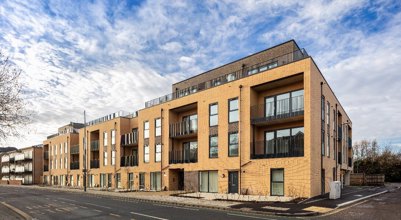 Anike has a ten-year tenancy which already gives her family far more security than in their private rental. Rent is much less than she was paying for her two-bedroom flat, so she is able to start saving towards a deposit to buy her home. Anike's plan is to buy her first share through Shared Ownership in around three years' time.
Elliston House, a newly completed scheme of 42 apartments, has been built for Orbit by Wates Construction Ltd, the same team who have led on the major Erith regeneration projects of Erith Park and Park East. 
More London Living Rent apartments will be available at Park East from August 2021. You can register your interest at https://www.orbithomes.org.uk/park-east/.