Location, location, location!
"We went to look at Summer Gates and as soon as we walked into the Show Home it felt like we were at home!"
Young couple Jessie Parkes (21) & Alex Walker (23) who have been together for 2 years, came to Orbit after longing for a house of their own. After living with their parents for some time, they wanted their own space to build a future together. Now, thanks to helpful advice from Orbit on a Shared Ownership property, they have a beautifully furnished, 3 bedroom home in a location they could only dream of!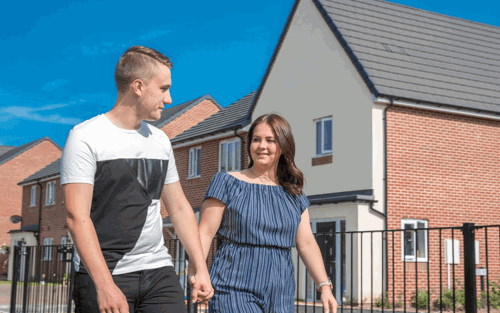 "We looked around at a number of developments but didn't feel at home. We went to look at Summer Gates and as soon as we walked into the Show Home it felt like we had come home, we were so excited!"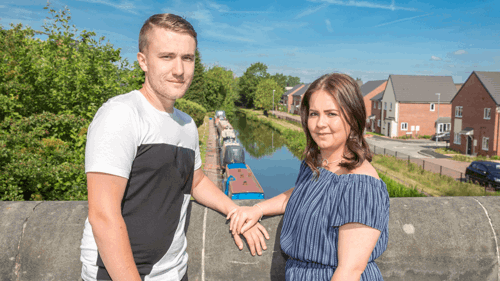 After the first couple of years the question came about living together but they didn't want to rent, Jessie explains: "We were both living at our parents and wanted our own space. We didn't have a massive deposit and wanted to get on the property ladder without renting." They both wanted a house they could stay in and really make their own, whilst being located in a nice area which was important for them.
"

We were looking for somewhere we could stay for a while & have future in together. The area was right by the canal which Alex always dreamed of for those summer days when we were outside.

"
So, after months of searching, they finally found what they had been looking for at the Summer Gates development in Rugeley, Staffordshire.

"We heard about the development through social media and our journey went from there…"

Alex and Jessie came to have a look at the homes at Summer Gates, and that was the moment they knew, they met our Sales Consultant, Jacqui Duggan who was on hand to guide them through the process as Jessie explains:

"We had never heard of Orbit before but we went to look and fell in love with it straight away. We were scared at the start but Jacqui made us feel at ease."
The couple went on to reserve their 3 bedroom home named the 'Rose' offering an open-plan living space with modern kitchen with an integrated fridge/freezer. They moved in May 2018. So how did they feel to live together? Seems living together has come naturally to the couple! "We get on really well living together and we both love the house."
"We felt the house had character and was high spec throughout. The garden was the right size and the parking was just right, not having spaces outside the house like most new developments."
How is life now? With a four-star customer service HBF rating, Alex and Jessie are not alone. Now most importantly are you happy with your Orbit Home; Jessie continues:
"Everyone loves our house, they said it is beautiful and a lovely location. Everyone wants to move by us! Our area now is amazing, we are right on the canal which is beautiful when the sun is shining. We are close to everything shops, pubs and closer to work for us both. It is quiet which is nice when you have done a full day at work!"
Additional Information
Summer Gates is a charming development with, a selection of 2 & 3 bedroom, energy efficient homes in the historic town of Rugeley. For more information on current developments, call our sales team on 024 7643 7040.