Kiln View at Peters Village - Family living, on a new level
Barry and Karen Holdsworth, and son Matt, have found the perfect solution to the challenges of cross-generational living, at Orbit's Kiln View Development in the brand new riverside community of Peters Village, near Wouldham in Kent.
Karen (57) and Barry (65), have children of their own and Barry was a full time foster carer, so the couple had always needed a large family home and were used to having lots of space.  When it was time for Barry to retire, they found themselves with two spare bedrooms, so the couple decided to sell their substantial property in the prestigious Kings Hill area of West Malling, in order to pay off their mortgage.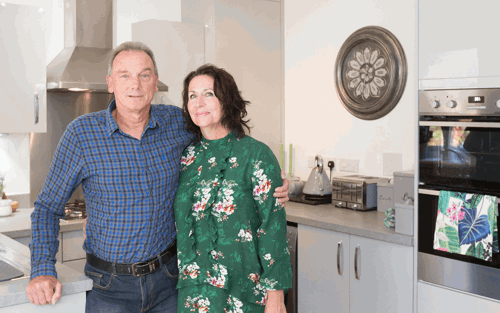 However, they were concerned that 'downsizing' would mean huge compromises when it came to lifestyle and accommodation. The issue of space was particularly pressing, as their choice of new home also needed to be suitable to share with their nineteen-year-old son, Matt, who was keen to continue living with them.
Thanks to encouragement by a surveyor friend, who gave them excellent advice on the local property market, the Holdworths decided to visit the sustainable new Peters Village development, next to the River Medway. At first, the couple were cautious about the prospect of purchasing a new build property, but, as Karen explains, they were in for a pleasant surprise:
"What we discovered was a hidden paradise! The Kings Hill area, where we lived previously, was lovely but increasingly busy, so it was refreshing to find a tranquil environment within such easy reach of everything you need for modern life.  We're surrounded by a nature reserve, and yet we're an easy drive to Chatham and Maidstone, and there is a train station with fast connections to London just a short walk away.
"We were even more delighted when we viewed the Orbit show home and discovered that buying a new build doesn't mean you have to compromise on space or quality. The house we chose was comfortably within our budget, yet offers everything we hoped for from our new home."
Son Matt is also delighted with his new pad, as the family's three story house provides him with what his sister has dubbed "Matt's Penthouse"! Barry comments: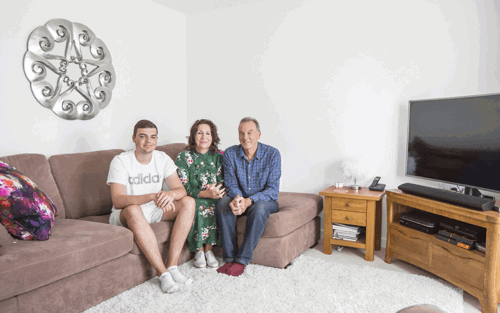 "Because the second bedroom is so huge, we have been very happy to take that one, and let Matt have the master bedroom and en-suite, which are on a separate floor to the other bedrooms and family bathroom, giving him and us our privacy."
"The communal areas are so large and thoughtfully laid-out that we can share without tripping over each other, and there is plenty of space for family get togethers. For example, the kitchen diner is easily big enough to seat 12 people for dinner parties, and because the storage is so well-designed it means the useable space is maximised."
The move to Kiln View has also vastly improved The Holdsworths' work/life balance as the couple have discovered a new found love of walking, thanks to being just 100 metres from the new riverside esplanade, and Barry has taken up gardening, inspired by the beauty of the surrounding countryside.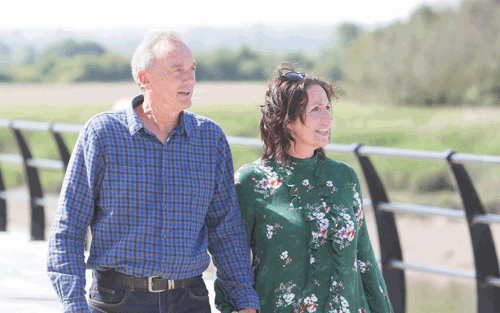 "We go walking practically every day now," says Karen, "It really lifts my spirits to stroll along the riverside after work, and to the lovely Waterman's Arms pub in Wouldham, which has loads of social events and does a cracking Sunday roast!"
"We love the community feeling here, and the amazing support we have from Orbit.  They were massively helpful when we had some delays with our old house sale, and the maintenance team has been incredibly efficient.  Buying a new build home with a really good developer has all sorts of unexpected advantages, and significantly reduces the stress of moving."
The Holdsworths' friends and family have also been hugely impressed by the family's new life at Kiln View, with one of their own sons, and friends who visited from Norfolk, already interested in relocating to Orbit properties at Peters Village themselves.
"We knew we'd found the perfect home for us," smiles Karen, "when a friend who had just had the tour of the house exclaimed: "I thought you said you were DOWN-sizing?!""