It's goodbye to renting and hello to home ownership!
Elizabeth and her husband make the move from renting to home ownership with Help to Buy
Elizabeth and her husband, originally from Greece, had been privately renting for five years and were saving hard for their wedding.  Unfortunately, the COVID-19 pandemic meant they had to cancel their wedding plans, so they decided to invest their savings and buy their first home instead.
They had read about Help to Buy Equity Loan scheme* on the government's website and decided this would be an ideal way to help them onto the property ladder.  With Help to Buy, the government will lend first time buyers up to 20% of the cost of a newly built home, with no interest to pay for the first five years. This assistance means a smaller deposit and mortgage is required, making it a more affordable way to buy your first home.
Elizabeth and her husband wanted to buy with Orbit Homes after reading great reviews and picked The Sidings at Thrapston in Northamptonshire, as it was the ideal location for them.
Their mortgage advisor gave them guidance with the required forms, but Elizabeth found the process of buying a home with Help to Buy very easy and their application was approved in just a few days.  The family moved into their new home in July and Elizabeth couldn't be happier: "The area is very quiet; it's like a small village, which is what we were looking for and our home is really well-built and very spacious".
Their concerns of buying a brand-new home and finding defects were unfounded; Elizabeth says they only found a couple of minor cosmetic issues which were dealt with by the builders the very next morning.
The couple would recommend the Help to Buy scheme for first time buyers because of the difference it makes to the deposit needed: "You can buy your very first home much quicker than you think".
Help to Buy has opened the door to home ownership for this couple and their 2-year old daughter and now they have a beautiful new home to call their own.
To find out more about the Help to Buy: Equity Loan scheme visit https://www.orbithomes.org.uk/helping-you-buy/help-to-buy/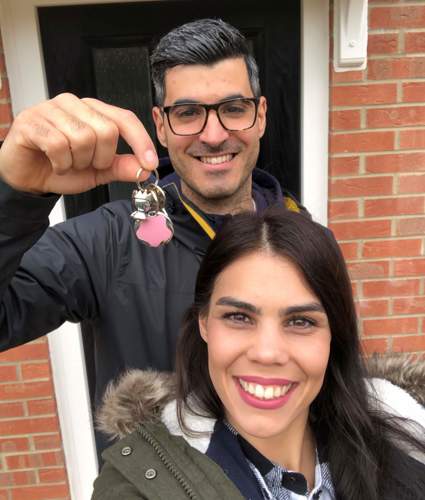 *The government-backed Help to Buy-Equity Loan scheme is subject to eligibility, terms, and conditions.