Hey baby, we're home!
"We could afford so much more than we thought our deposit would allow, and are so grateful for the advice we were given by the Orbit Sales Consultant."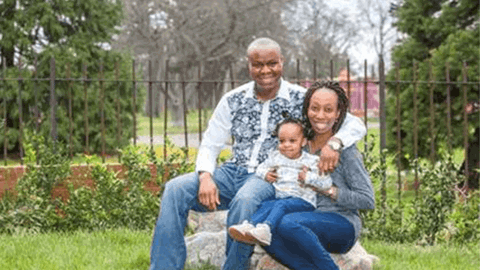 Tony Ukachukwa and his wife Chibuzo had been renting their home in Lewisham for several years, but the arrival of their baby daughter, Stephanie, made them long for the security of a home they could truly call their own. Now, thanks to shared ownership with Orbit at its Erith Park development, the family have the space and stability they craved.
The hardworking couple, were an economist and a midwife, respectively, in their native Nigeria, but were unable to use their qualifications in the UK without retraining, so Tony now manages a garage, and Chibuzo works as a healthcare assistant, whilst studying for her British nursing exams.
Their combined income made them eligible to purchase an equity share of a new home though the Shared Ownership scheme, which is open to people with an annual household income of below £90k inside London (or £80k outside of the Capital).
After hearing about Shared Ownership from Chibuzo's brother, the couple set about looking for suitable properties in areas that allowed easy access to their workplaces. They discovered Erith Park, after seeing an advert on social media, quickly deciding that this was the ideal location for them, but unsure whether their dream home was within their budget.
However, they were pleasantly surprised to discover that with Shared Ownership they only had to save a deposit for the equity share they were purchasing, so their target two-bedroom apartment was certainly within their sights. The surprise turned to delight, when a week after visiting the Erith Park sales suite, they received a call to tell them that there was actually a three bedroom home available to them, and they could afford to buy a 40% share.
Under Shared Ownership, purchasers are able initially to buy the percentage of their home that they can comfortably afford, and a government-subsidised rent is paid on the remaining portion.
The equity share can be increased over time, via a system known as 'Staircasing', (as circumstances change, or the household income increases), up to 100% ownership.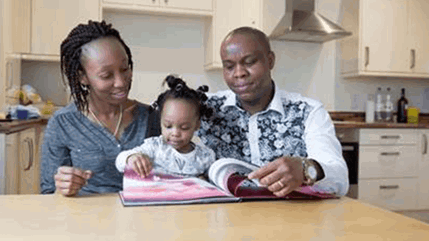 "We are very much looking forward to increasing our 'owned' share of our home in a couple of years' time, when Chibuzo returns to the midwifery profession, and our financial situation improves."
The couple say that they are very happy with the customer care they received throughout the purchase process, with Tony commenting: "We could afford so much more than we thought our deposit would allow, and are so grateful for the advice we were given by the Orbit Sales Consultant, and by the Independent Financial Advisor they recommended to us. You can imagine that as a trained economist, I'm pretty critical when it comes to financial deals."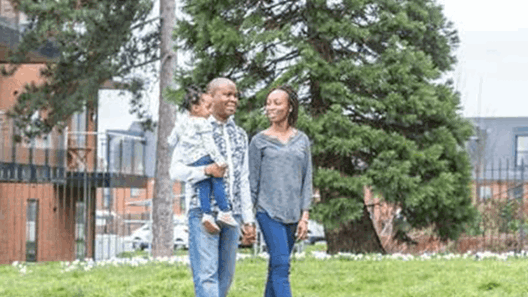 Tony and Chibuzo chose Erith Park for its easy transport links to central London, but also for the community that Orbit has created there.
Tony explains: "Despite needing to be near London, we wanted to live in a peaceful and safe place for our daughter. Here, there is plenty of green space for Stephanie to play in, and the neighbours are all lovely, respectful people. The atmosphere is calm and friendly, and we are so very, very happy that this is our home!"