Graeme gets a helping hand onto the property ladder with Shared Ownership
Graeme tell us about his journey onto the property ladder with with Shared Ownership
These days, many first time buyers feel that getting that first step onto the property ladder is out of their reach, but Graeme, a 36 year old graphic designer from Corby tells us how Shared Ownership helped make his dream of owning his own home become a reality.
Graeme first heard about Shared Ownership from friends who had purchased their home this way and have since bought more shares and now own their home outright. He felt that this affordable way to buy was the right option for him because it meant he didn't have to compromise with where he wanted to live; he had heard about Coldermeadow Park, a new Orbit Homes development in Corby and had his heart set on buying a home there before building had even started!
Determined to save up for his deposit as quickly as he could, Graeme moved back in with his parents and cut down on socialising and holidays. This determination paid off and he was able to reserve a 2-bedroom house at Coldermeadow Park which he moved into earlier this year.  "My home is just the perfect size for me; it suits me in everything I need now and moving into the future".
His parents and friends are pleased for him, knowing he has wanted to get on the property ladder for such a long time and see this as the start of the next chapter in his life.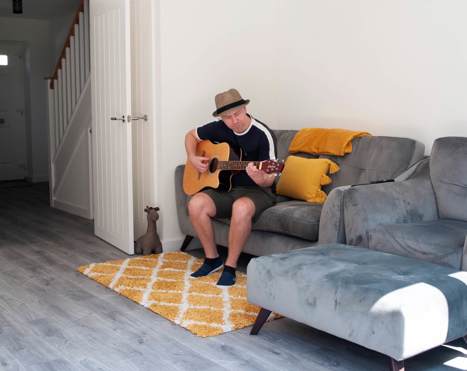 Whilst buying a home and getting a mortgage can be stressful, Graeme found the whole process was made easier by the guidance and help he received throughout from Orbit Homes: "Denise, the Sales Consultant was extremely helpful, keeping me well informed of developments and letting me know if anything was needed".
Buying with Shared Ownership is a more affordable way to get onto the property ladder as your deposit is based on the share that you buy, rather than the full purchase price and you benefit from a smaller mortgage too.  You purchase a share that is affordable for you, usually between 25% and 75%.  The rent you pay on the share that you don't buy is subsidised and most purchasers find that their total monthly payments are less than when they were privately renting.
This scheme gets the thumbs up from Graeme: "I would recommend Shared Ownership to anyone looking to and struggling to get on the property ladder".
The homes at Coldermeadow Park are now sold out but you can discover more of our Shared Ownership homes for sale on our website: https://www.orbithomes.org.uk/developments