Chloe and Jordan move onto the property ladder with Help to Buy
Chloe and Jordan tell us how they made their dream of owning their own home a reality
Meet Chloe and Jordan; proud owners of their first home made possible by their hard work and a little assistance from Help to Buy.
We all know that getting on to the property ladder these days is not easy but this couple are a great example of how it can be achieved.
Chloe works for a housing association as an Assistant Asset Surveyor and Jordan is a Logistics Coordinator at a distribution centre.  When they met, they realised they both had the same dream – to own their own home.  They had both been saving for their future so made the decision to make their dream a reality.  It required dedication and sacrifice to finish saving for their deposit; Jordan moved in with Chloe and her family during the COVID-19 lockdown.  He worked more overtime and they both lived on the basics for a year.
They did a lot of research before they committed to anything and discovered the government-backed Help to Buy:Equity Loan scheme.  This scheme enables first time buyers to purchase a brand-new home with the help of an equity loan of up to 20% with no interest to pay for the first 5 years, meaning you can purchase a new home with a 5% deposit.  They spoke to friends that had already purchased this way who recommended it.
They chose The Sidings at Thrapston because of its location - near to surrounding villages and the River Nene with lots of off-road walks for them and their border collie Benji to explore.  The couple moved into their new home in July this year on a beautiful sunny day and couldn't be happier. As Chloe says: "We love how quiet and dog-friendly the area is and we are lucky enough to have lovely friendly neighbours too".
We asked what they thought the top 3 benefits of Help to Buy are and this is what they told us:
We could afford to buy our dream house
We didn't have to save for a bigger deposit that would have taken us years
Our loan is interest-free for the first 5 years
The Help to Buy scheme opened the door to home ownership for Chloe and Jordan so would they recommend Help to Buy to others? "Definitely! The Help to Buy scheme is a great way to help first time buyers get on the property ladder".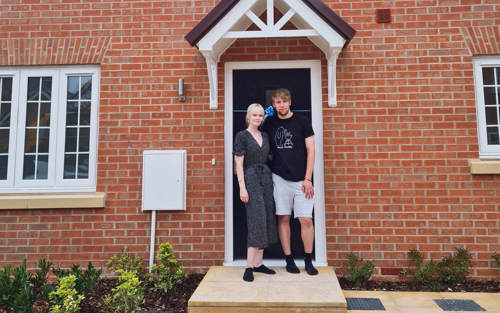 You can find out more about Help to Buy on our website: https://www.orbithomes.org.uk/helping-you-buy/help-to-buy/
All homes at The Sidings are now sold but you can find details of all our developments here: https://www.orbithomes.org.uk/developments