A home for a growing family with Aspire to Buy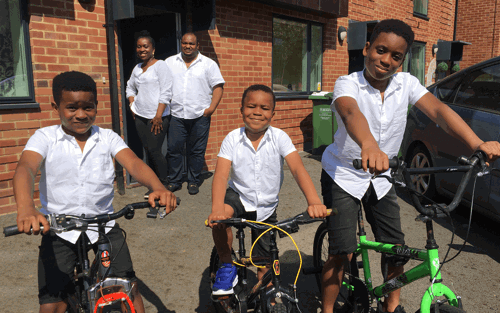 Charles and Ebele Amazu always planned to save and buy a home for their growing family. Five years ago they visited the show home for Orbit's new Erith Park development and loved the spacious and modern new homes. However they realised they weren't yet ready to buy. Ebele was not earning, as she was studying for her professional qualification in social work, and was also pregnant with her third and youngest son, Odinaka. The family were relying on Charles' income as an IT engineer.
Charles, Ebele and their two older boys, Udi and Chichi, were living in a privately rented one bedroom flat at the time. Bexley Council confirmed that they would not be a priority for social rented housing but referred them to Aspire to Buy at Erith Park. Under this scheme, customers were offered a five year tenancy on a reduced rent with the expectation that they save and buy at the end of this period. For those who need it, there is the opportunity to buy with shared ownership.
As soon as they saw their three bedroom home, Charles and Ebele knew they had found their dream house and had no hesitation in signing up for their tenancy. The three bedroom terrace house is generously sized, has a garden and opens on to a landscaped pedestrian street, or home zone. 
After living with two sons in a small flat, they really appreciate all the opportunities for the boys, now five, seven and ten years old, to play safely and to use up some of their boundless energy. They have a garden, where the paddling pool has been well used in the summer holidays. The home zone is safe for them to play on their bikes and both Erith Park playground and the leisure centre are within a few minutes' walk. The family also enjoy bike rides together and exploring the local area.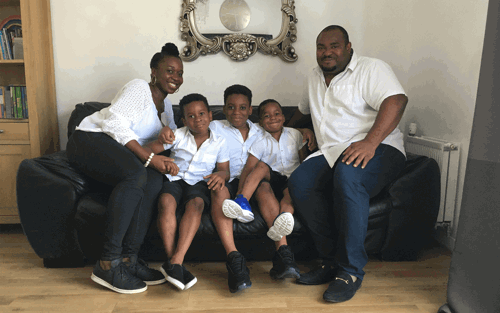 As soon as they moved in, the couple took out an ISA each and started saving to buy. Ebele is now a qualified social worker so there are two incomes coming in. Childcare costs have also reduced over the years as the boys have started school.  Now, five years on, they have become proud homeowners.
Ebele says 'We always planned to buy a family home but Aspire to Buy helped us to move in years sooner. For five years we've benefited from the security of being settled a lovely home in a pleasant area. We've been able to give our sons a much better start in life. The reduced rent helped us to save and buy and the knowledge that this was our big chance to buy the home we loved gave us the incentive to keep going.'
Aspire to Buy was a product developed especially for Erith Park. However London Living Rent is very similar and is being offered across London. Orbit will be offering London Living Rent homes on our Erith Developments at Elliston House (available autumn 2020) and Park East (available from 2022).