8 ways to celebrate Valentine's Day, when you're single
Blog : Published on 05-02-2020
---
It's almost that time of year again… Valentine's Day is fast approaching and is as cliché as ever. However, this year we want to make Valentine's Day a more inclusive time, where you can celebrate not only the romantic relationships in your life, but the most meaningful ones.
Time to forget the packed restaurants and the heart-shaped chocolates… and reflect on the most special people in your life; first one being yourself. We believe self-love is so important, which is why we have created a list of things you can do, if you're not feeling a 'couples' Valentine's Day this year and would like to focus on yourself!
Spend time with your family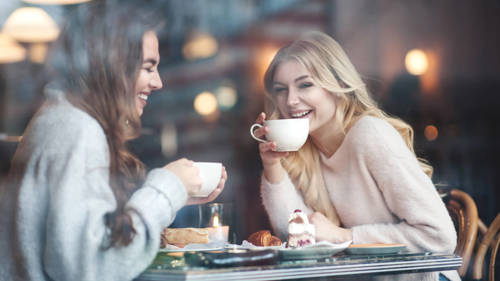 Spending time with the people that are closest to you is the best way to celebrate Valentine's Day. Whether you choose go out with your friends, or just have an evening in with your close family – those moments are the ones you will always remember, especially if you don't see them that often.
Become gripped by a new book
Whether you're into horror, romance or an action thriller, pick up a book you've been eyeing up recently and get engrossed in the story-line. Reading can be very therapeutic and as soon as you get hooked, you'll lose track of time.
Treat yourself to something you want
You know that pair of shoes you've been looking at? Or that house you've been wanting to view? This is a day where you can spoil yourself without any regrets, treat yourself!
Have a movie marathon
Buy a tonne of your favourite snacks, get in your most comfy clothes and enjoy hours of your movie favourites! Sometimes the best way to enjoy your time, is by doing absolutely nothing at all…
Write yourself a letter to read a year from now
There is no better way to set goals and objectives for yourself, than writing a letter to your future self. Keeping those promises throughout the next 12 months is a great way to get rid of old habits and to make you feel better about yourself.
Take a class
Doing something out of your comfort zone is the best way to grow, so take a class you wouldn't normally take! Exercise, ballroom or even educational classes are great habits to keep up and Valentine's Day is an opportunity to surprise yourself, by stepping out of your comfort zone.
Use the time to connect with your single friends
Turn Valentine's into Pal-entine's this February, by reaching out to your other single friends who might be free as well. This is great time to reconnect with people you don't always see and catch up on everything that has happened since you last saw each other.
Celebrate you
You are the most important person in your life, so why not spend the day of love celebrating that person! Treat yourself by doing something you love the most, listen to your favourite music, take a long bath or whatever you fancy.
This Valentine's Day is all about doing what you enjoy and forgetting the romantic stigma surrounding February 14th! After all, it is just another day – so make it a special one.
We would love to see how you have chosen to spend the 14th February, so send us a picture of how you're enjoying your day.
Competition Time!
Want to rock out to your favourite band? In need of some retail therapy? Get over to our social media channels and be in with a chance of winning some great Valentine's Day prizes!
Prize's up for grabs: 
£50 Ticketmaster voucher

£50 Love2Shop voucher 

Surprise hamper of goodies (worth £50!)
Instagram: @orbithomesuk 
Facebook: Orbit Homes UK